Scottsdale, Ariz. (December 18, 2017) – Plexus WorldwideTM (Plexus), a leading direct-selling health and wellness company focused on health and happiness, is pleased to announce it donated $64,104.75 to Our Military Kids on December 18. The nonprofit organization supports kids of deployed National Guard, Reserve service members, and children of wounded warriors from all service branches by helping families to pay for youth activities such as youth sports participation leagues (i.e. soccer, baseball, arts camps, drama clubs, etc.). The grants fund activities to help children cope with stress and anxiety while their parents are recovering or deployed.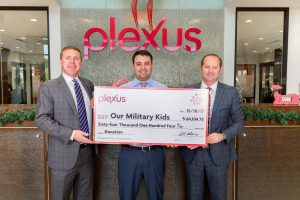 "Plexus is proud to once again support Our Military Kids by donating a portion of our total sales from Veterans Day," said Alec Clark,President of Plexus Worldwide. "When a parent's deployment or battle injury brings stress to a child, it's amazing what simple activities – like ballet or baseball – can do. We hope this donation will help those families who are struggling to deal with financial and emotional hardships."
"Since 2004, Our Military Kids has positively impacted the lives of more than 50,000 children of military members throughout the United States by providing them with grants to stay active and participate in extracurricular activities," said Linda Davidson, Co-Founder and President for Our Military Kids. "We're thankful for the partnership we have with Plexus Worldwide and their continuous donations, bringing hope for these children and their families year after year."
About Plexus Worldwide:
Plexus Worldwide LLC offers health and wellness products that enable people to improve their lives and well-being. With more than 615,000 independent business owners ("Ambassadors") worldwide, Plexus is among the world's 40 largest direct sales companies and has often been featured on the Inc. 5000 list of fastest-growing companies. The combination of Plexus products and opportunities help individuals to meet their health-wellness and financial goals.  For more information about us visit www.plexusworldwide.com.