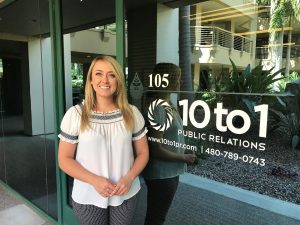 Scottsdale-based 10 to 1 Public Relations is pleased to announce Sierra Oshrin has joined its team as an Account Executive. Most recently, Sierra served as the lead STEM Reporter for KBOI-TV, the CBS affiliate in Boise, Idaho. There she established strong relationships with government and industry leaders to promote stories on science, technology, engineering and math in K-12 education. She's worked for national outlets like USA Today, to Phoenix-based television and radio stations.  She's excited to return home to Arizona, where she grew up and graduated from Arizona State University's Walter Cronkite School of Journalism and Mass Communication.
"As a former TV Journalist, Sierra brings a true understanding of what reporters need to tell an interesting story and how best to position clients in the public eye," said Josh Weiss, President of 10 to 1 Public Relations. "She's a talented storyteller and brings an excellent rolodex of media contacts with her from across the United States."
"Over the years I've worked with many public relations companies and I know what makes certain pitches stand out," said Oshrin. "I'm excited to join the 10 to 1 Public Relations team because I believe in its philosophy of building up good will for its clients to create a bank of positive awareness.  The firm's client list also excited me and I'm thrilled to work with them to help share their stories."
10 to 1 Public Relations launched in 2012 with the philosophy that it takes 10 good things to be said about a company to make up for one bad. Since it's only a matter of time before a negative comment (true or false) is made, it's essential to build up a company's "good will bank" to protect its long-term image and reputation. This philosophy led to the company's name. Its clients include Plexus Worldwide, FirstBank, the CORE Institute, TOMCAR, Advanced Genomic Solutions and more.