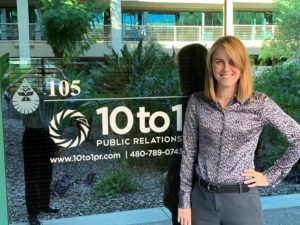 Erica Fetherston joined the 10 to 1 Public Relations team as a Senior Account Executive.
She has over a decade of experience in communications, public relations, social media management, digital marketing, political campaigns, and public affairs. Erica spent seven years leading communications strategy at Local First Arizona, one of the state's most well-respected organizations as well as the nation's largest local business coalition. Erica has a proven record of public relations successes as well as a knack for storytelling that guarantees attention and engagement.
Erica graduated summa cum laude from Arizona State University with degrees in Philosophy and Political Science. While in college, she got bit by the political bug and led a student organization focused on getting young people involved in politics, ran a political campaign, and completed several prestigious internships in Washington, D.C., and at the Arizona Legislature. Ultimately, her training in writing, critical thinking, and persuasion is what would lead Erica to a career in public relations and communications.