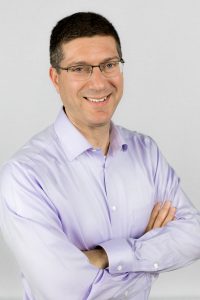 Jokingly referring to himself as a perception engineer, Josh Weiss is passionately committed to helping the clients of 10 to 1 PR achieve their long-term strategic goals through the power of public relations.
From an early age, living in the suburbs of Cleveland, Josh realized the importance of influencing the way people think and getting them to take action. In grade school, he organized a rally of his schoolmates to protest school district teacher layoffs. Through persistence he got local media to attend the hour-long demonstration the students held before the start of the school day.
Through high school and college, he expanded his impact by launching a successful mobile disc jockey company, which taught him how to run a business, market and organize. During this time he also worked at several radio stations around Cleveland and for CBS Radio in Washington DC. Among his highlights of those years include the opportunity to interview several politicians (i.e. then U.S. Speaker Dick Gephardt and NY Governor George Pataki) and numerous rock and roll stars including Don Henley of the Eagles and Billy Joel.
But it wasn't until as a student at Kent State that he understood the power of creating perceptions that others would remember. Interested in being part of the student government (and the free tuition that came with being elected a member of the Student Senate of the 30,000 student campus), Josh decided to throw his hat in the ring. Realizing that no one knew him, he deliberately created a mystique and got the campus buzzing with the question, "Who is Shaggy?" (If you want to know the backstory of Shaggy- you'll need to ask him). By the time of the big reveal (and election), Josh ended up winning the seat – and served multiple years.
Appetite whetted, Josh graduated college and began an active career in politics, working for the Speaker of the Illinois House of Representatives to generate news coverage for his House caucus members across the state to explain and promote key votes and generate support among local voters.
After the 2000 election, Josh moved to Arizona where, over the years he held a variety of PR roles including the national Director of Public Relations for Rural/Metro, a leading national provider of private ambulance and fire protection services, and as Director of Communications and Public Affairs for American Traffic Solutions, a national leader in traffic safety cameras.
After leaving his last role, Josh decided to start 10 to 1 Public Relations with the desire to help his clients engineer the perceptions of others, using strategies that are aligned with their long-term goals and delivered through purposeful relationship building with key members of the media, government, and the broader community.
In the last 20 years, Josh worked with hundreds of external and internal clients including public and private companies in the healthcare and technology industries, government municipalities, first responders, and community organizations to build positive brands and manage reputations. In this time he's won numerous awards for his clients, his company and himself.
A frequent speaker at local, state and national conferences on best practices and media relations techniques for both proactive and crisis communications, Josh has been published in several industry trade magazines.
Married with two kids, Josh has been a Scottsdale, Arizona resident since 2001 and has been active in several local boards and organizations. To see Josh's full career bio visit his LinkedIn page.