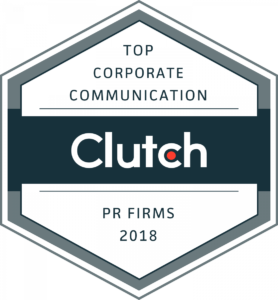 As the company celebrates its sixth anniversary this month, Scottsdale-based 10 to 1 Public Relations is pleased to announce that third-party reviewer "Clutch" has named it among the Top Public Relations firms in the nation.
No other companies in Arizona, or the Southwestern U.S. ranked as high on Clutch's lists. Clutch ranked 10 to 1 Public Relations #2 in Corporate Communications, #2 in Healthcare, #4 in Crisis Communications and #8 in Agencies under 50 employees. The lists are updated regularly based on several factors including client reviews which are conducted primarily by one-on-one direct phone calls between Clutch and the individuals that know the companies being evaluated best.
"What a wonderful anniversary gift to learn that third-party reviewer "Clutch" ranked 10 to 1 Public Relations so high on its national list of Best PR firms in several categories!" said Josh Weiss, President of 10 to 1 Public Relations. "Our focus has always been on helping our clients grow and protect their awareness and it's humbling to see our year-after-year growth of the company and the amazing companies that put their trust in our team."
The 10 to 1 Public Relations team has earned several awards in recent years, including twice being a Sterling Award Finalist for the Scottsdale Chamber of Commerce, numerous awards from the American Marketing Association Phoenix Chapter's Spectrum Awards, and being voted to Ranking Arizona's list of top PR firms for the past four straight years.