High Performance Anti-Aging Skincare Line Works to Restore Balance to Skin Microbiome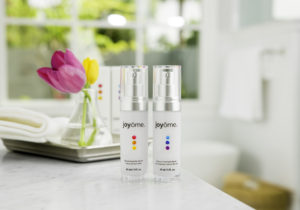 Scottsdale, Ariz. (June 5, 2018) – Plexus WorldwideTM (Plexus), a global leading direct-selling health and wellness company focused on health and happiness will launch its revolutionary new Joyōme™ skincare line on Friday, June 7 at the Plexus Legacy Convention 2018 in Orlando.
The new Joyōme™ from Plexus features a patent-pending Microbiome Balancing Complex with a unique prebiotic blend that works to rebalance skin's natural microbes and fight visible signs of aging.
The balance of good and bad microbes that live on our skin shifts over time, leaving skin prone to accelerated aging, loss of moisture and uneven texture. Joyōme's™ Microbiome Balancing Complex is scientifically demonstrated to increase skin-nourishing microbes and crowd out skin-damaging microbes to protect skin from environmental age accelerators. Joyōme™ protects the skin barrier and restores a youthful-looking glow using a patented system that includes:
Clinically studied levels of 11 premium anti-aging ingredients
Exclusive Microbiome Balancing Complex
Retinoid Ester to reduce appearance of deep lines and age spots
Patented HydraLipid Delivery System to boost absorption of active ingredients
No harmful chemicals like BHA and BHT, parabens, GMO's, artificial dyes and fragrances
"Plexus has earned a reputation as a leader in developing products that nourish the microbiome inside our bodies to benefit one's health and happiness.  With the addition of our new skincare line, Joyōme™, we're now nourishing the facial microbiome to restore a youthful-looking glow and protect the skin barrier," said Janice Jackson, President of Sales and Marketing for Plexus.
Joyōme's™ microbiome-activating complex is featured in a simple, two-step process to replenish the skin and protect it from harmful environmental factors.
Joyōme's™ Illuminating Day Serum uses Argireline Peptide to soften the appearance of wrinkles, Hyaluronic Acid to draw in moisture, and Eyeseryl Peptide to reduce appearance of puffiness and dark circles around the eyes.
Joyōme's™ Intensive Overnight Repair targets signs of aging with Retinoid Ester to reduce appearance of lines, Azelaic Acid to visibly fade appearance of redness and age spots, and Matrixyl Peptide to fill and smooth skin.
Plexus independent business owners (Ambassadors) had the opportunity to sample the Joyōme skincare line following a special preview event on May 5, 2018. Joyōme will be available to the public starting June 7 on the Plexus website (https://plexusworldwide.com), and to the 11,000 Ambassadors attending Plexus convention at the Orlando World Center Marriott from June 7 – 10 who will have the opportunity to purchase the product onsite.
Samples and product sheets are available for the media.
About Plexus Worldwide:
Plexus Worldwide LLC offers health and wellness products that enable people to improve their lives and well-being. With more than 700,000 independent business owners ("Ambassadors") worldwide, Plexus is among the world's 40 largest direct sales companies and has often been featured on the Inc. 5000 list of fastest-growing companies. The combination of Plexus products and opportunities help individuals to meet their health-wellness and financial goals.  For more information visit www.plexusworldwide.com.