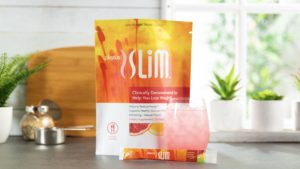 Clinically Demonstrated Weight Management Solution Helps You Feel Full Longer by Reducing Hunger
Orlando, FL (June 8, 2018) – Plexus WorldwideTM (Plexus), a worldwide, leading direct-selling health and wellness company focused on health and happiness, announced it has added a second Plexus Slim® product at the requests of its Ambassadors. Plexus Slim Hunger Control that empowers people to take back control of their diet and lose weight. 
Slim Hunger Control is a clinically demonstrated weight management solution that helps you feel full longer by reducing hunger and the desire to overeat.  It is a premium health supplement containing a clinically studied level of polydextrose, a low-calorie soluble fiber shown to reduce hunger. Polydextrose attracts water and swells in the stomach, taking up space so you feel satiated longer, making it easier to form healthier eating habits. Slim also contains chromium which supports a healthy glucose metabolism and it is gluten free, non-GMO and 100% vegetarian with no artificial sweeteners or flavors.
At the end of May, Plexus offered its Ambassadors (Independent Business Owners) an early trial of the product and it sold out its initial run of 70,000 bags in less than 36 hours. Today during a session of Plexus' Legacy 2018 Convention in Orlando in front of 11,000 Ambassadors, Plexus announced Slim Hunger Control is now fully available to the public for purchase at its website www.plexusworldwide.com.
"Our Plexus Slim Microbiome Activating formula which has a powerful prebiotic fiber that promotes the growth of good gut microbes, remains extremely popular, but many Ambassadors were requesting another pink drink option that focused on curbing hunger." said Janice Jackson, President of Sales and Marketing for Plexus.  "Slim Hunger Control is a delicious blood orange, lemon, lime flavor pink drink specially formulated with polydextrose at levels clinically demonstrated to help curb your hunger and is only 20 calories!"
Designed to work hand in hand, Slim Hunger Control and Slim Microbiome Activating to take your health to the next level. They work together to help you lose weight, balance your gut microbiome, and support healthy glucose levels. Slim Hunger Control helps stave off hunger with increased polydextrose, a unique fiber that attracts water and takes up space in your stomach to help you feel full and satisfied, and reduces your desire to overeat. While the Slim Microbiome Activating formula supports optimal gut health with xyooligosaccharide (XOS). This special prebiotic fiber helps your microbiome thrive by activating friendly microbes like Akkermansia, which positively impacts disrupted metabolism associated with being overweight.
Samples and fact sheets for Slim Hunger Control and Slim Microbiome Activating are available upon request.
About Plexus Worldwide:
Plexus Worldwide LLC offers health and wellness products that enable people to improve their lives and well-being. With more than 700,000 independent business owners ("Ambassadors") worldwide, Plexus is among the world's 40 largest direct sales companies and has often been featured on the Inc. 5000 list of fastest-growing companies. The combination of Plexus products and opportunities help individuals to meet their health-wellness and financial goals.  For more information visit www.plexusworldwide.com.