At 10 to 1 Public Relations, one of our core goals is to earn our clients the right kind of media coverage. Generating television, radio and print coverage for our clients is a great way to generate brand awareness and build credibility within the community. Learn more about our media relations service.
We've helped place hundreds of news stories over the years.  Below are a few of our personal favorites.  We hope that you'll enjoy them as much as we do.
Advanced Genomic Solutions' Health and Wellness DNA test featured on the Phoenix NBC Affiliate
Why we like it: There were a lot of steps in coordinating all the pieces that resulted in this story and Tram Mai, the morning anchor, completely nailed it!
Solar Breeze Raises $400,000 on KickStarter in Phoenix Business Journal
Why we like it: Raising six figures on Kickstarter is rare, but our client Solar Breeze raised more than $400,000.    We were successful in generating several print and broadcast stories to keep sales moving during the manufacturing process and launch.  Contributing to the company selling out its product inventory requiring it to produce even more to meet demand.
Phoenix Business Journal Story on Solar Breeze
Plexus Worldwide story about one of its Ambassadors in Oklahoma.
Why we like it: With 400,000 Ambassadors across the U.S. and a lot of regulatory rules around the direct selling industry, it's complicated to coordinate local TV stories.  this story took a lot of effort to coordinate to ensure everyone was happy with the result.
notMYkid montage of national coverage from the "back to school" campaign
Why we like it: We directly coordinated events across 12 U.S. media markets and received the best news coverage the organization had ever received for a single campaign, far exceeding the media coverage and event success that other larger firms earned in years past.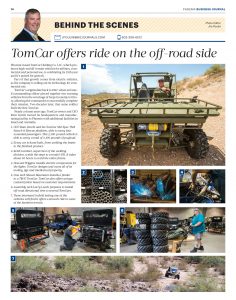 Tomcar features in the Phoenix Business Journal
Why we like it:  If you ever ride in one of these cars, you'll understand. Still, these stories were great and helped re-introduce Tomcar to the market after years of being behind the scenes.
Phoenix Business Journal – Ram Zarchi Turns Tomcar into Global Enterprise
Playworks story featuring one of its Junior Coaches on the Phoenix ABC affiliate
Why we like it: This story took months to set up, but once it ran the story remains one of the organizations top fundraising tools. Plus, he's just a really cool kid who's life was changed thanks to this amazing organization!
Xtreme Care Valentine's Day story on San Diego Channel 6
Why we like it: Start to finish this was our idea and we completely led its execution which resulted in a wonderful story that led to increased business for the client.
Conservatory of Recording Arts and Sciences graduates nominated for numerous awards including GRAMMYs, EMMYs and CMAs
Why we like it: We had a great time identifying graduates and highlighting their successes, resulting in TV coverage not only in Arizona where the school is located, but back in the hometown newspapers of the alumni award winners.
Plexus Ambassador mention in local newspaper
Why we like it:  We get stories like this placed all the time for Plexus. As a stand-alone story it's nice for the individual, but when you add all the stories we place like this every month it truly adds up and is helping to build Plexus' local and national brand.
Silver Star Article – Megan Goff