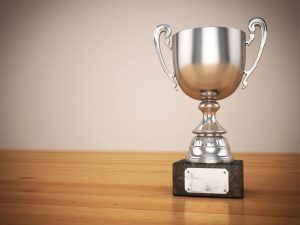 We handle the award submissions process from start to finish, with an above-average success rate.
"You miss 100% of the shots you don't take."
Awards provide your company powerful credibility.
Companies that win awards (or are nominated for them) are seen as superior to those who don't. With nominations and awards credited to your company's name, you'll be able to stand out in your industry as a leader.
We aggressively nominate our clients for as many awards as possible, looking for opportunities within your industry, your community, or in related industries. We explore creative opportunities to nominate you for awards where your company will have a competitive opportunity.
We strategically pursue award submission opportunities that provide the right kind of visibility and are in close alignment to the communities our clients serve.
Just being part of the process creates brand visibility for your business. Even if you don't win the award, achieving an honorable mention or finalist nod can be just as helpful to your company as actually taking the top prize.
It's all about creating the right kind of visibility for our clients.
And whether your company wins an award or not, we make sure your company gets the most value out of it by aggressively promoting its participation in the awards process.
This includes:
Press releases
Press conferences
Media campaigns promoting the win
Web content promoting the win or honorable mention
In addition to the work we do on your behalf, we always make sure that we work closely with the award organization to take advantage of any PR effort they undertake to get additional value from your nomination or win.
There's an easy way to lose an award. It's failing to apply.
It's also worth noting that our "batting average" on award submissions is nearly .500, proving that we know how to attract the interest of selection committee judges.