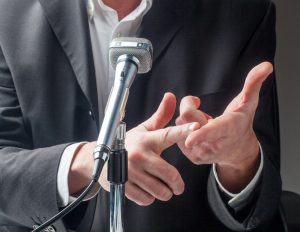 By securing the right speaking opportunities for our clients, we transform them into thought leaders and expert sources for the media.
"Sharing your knowledge helps you as much as them, if not more."
Being a thought leader and a recognized expert within your industry and your community is a powerful way to position your company as the first choice for new customers.
The key to accomplishing this is by getting key members of your leadership team opportunities to share in your company's expertise, philosophy, and successes with the right audience.
When you or a member of your team shares their knowledge with community groups, industry organizations, or other relevant groups, it establishes credibility.
The right speaking opportunity creates visibility and provides fertile ground for supporting PR activities.
With our deep understanding of the unique expertise and experiences you and your team have, we're able to find the right speaking opportunities. We focus on evaluating the potential opportunities in local events, organization meetings, and industry conferences with an emphasis on what will create a lasting impression.
To ensure we can be proactive about opportunities to get you or your employees in front of reporters when an expert opinion is needed, we set up a database of topics your employees feel confident talking to the media about.
Other services can include:
Sharing topic expertise with local media to let them know your company is available whenever needed
Piggy-backing on existing news stories and offer "localized" interviews
Responding to last-minute reporter requests for experts
Reviewing local events, organizations and industry conferences
Creating a database of topic expertise and past speaking experience
Submit "Calls for Presentations" to conferences offering events speakers on various topics of interest to attendees (not only industry related, but anywhere that we can find an entry angle)
Successful public relations efforts are built on a foundation of being strategically generous with information. By working with us around creating opportunities for speaking engagements and being a quotable expert, you'll be positioned as a leader within the communities you serve.