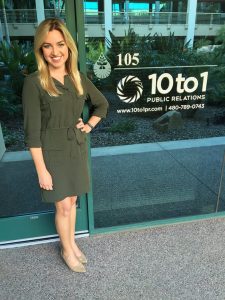 (Scottsdale, Ariz. February 29, 2016) Scottsdale-based 10 to 1 Public Relations, announced that Lauren Vargas has joined its team as an Account Executive. Most recently Lauren served as reporter at ABC15 in Arizona, and before that an anchor and reporter in Mobile, Alabama and Columbia, Missouri.  She brings years of media and story-telling experience that will help the strategic public relations firm's clients thrive in the spotlight.
"Lauren is a talented story teller and a trusted voice in our community," said Josh Weiss, President of 10 to 1 Public Relations. "We couldn't be more thrilled as her energy and passion for connecting audiences will be an excellent fit for both our local and national clients."
"Over the years I've worked with a lot of great public relations professionals and couldn't be more excited to join the 10 to 1 Public Relations team," said Lauren Vargas.  "10 to 1 Public Relations has earned a great reputation within the media and has an excellent client roster with amazing stories to share."
Launched in 2012, 10 to 1 Public Relations' philosophy is that it takes 10 good things to be said about a company to make up for one bad.  Since it's only a matter of time before a negative comment (true or false) is made, it's essential to build up a company's "good will bank" to protect its long-term image and reputation.  This philosophy led to the company's name.   Its clients include Plexus Worldwide, FirstBank, The CORE Institute, The ZONE and the Rural Institute for Veterans Education and Research (RIVER).
About 10 to 1 Public Relations:
Scottsdale-based 10 to 1 Public Relations is strategic public relations firm focused on developing and implementing strategies that grow and maintain the positive awareness and reputation of its clients.  For more information visit: www.10to1pr.com.