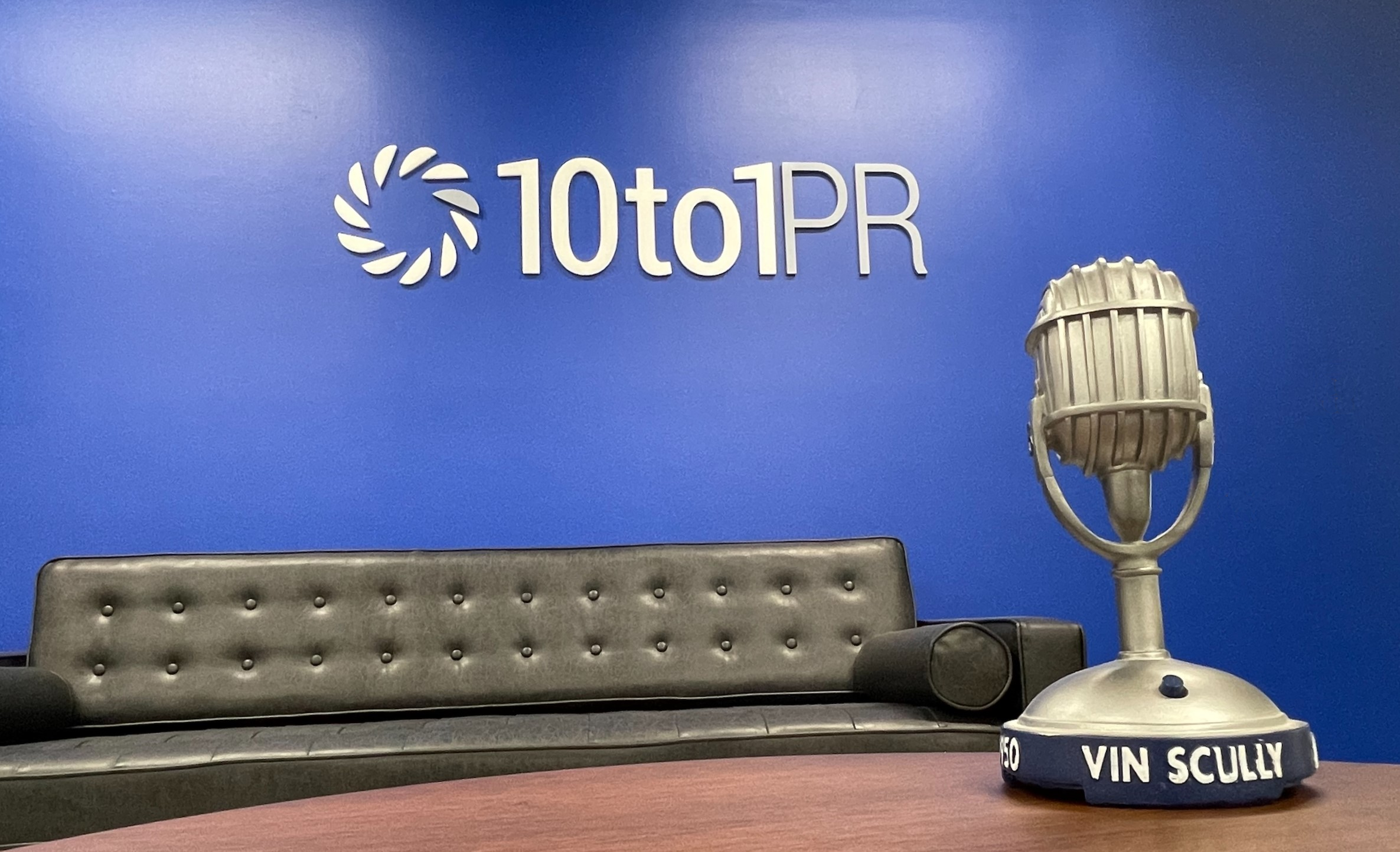 Lessons from Vin Scully, the Greatest Storyteller
---
Written by Tristan Chavez, PR Coordinator, 10 to 1 Public Relations
Public relations is storytelling. Sure, there are technical definitions that capture everything that public relations (PR) is – but at its core, PR is just telling stories about companies and their people. Storytelling is an art. Good storytellers can elicit the imagination of their listeners, inspire others to make a positive change, and can shape the way people interpret the world. There is a powerful influence that good storytellers hold, and no one was more influential in his craft than Vin Scully.
Vin's Legacy in Baseball
Vin Scully was a long-time sports broadcaster, most known for his 67 years of calling Los Angeles Dodgers baseball games dating back to 1950. Vin had a way of calling games that brought baseball to a different level. Watching the Dodgers wasn't as simple as just watching a baseball game. When Vin was in the booth, he was in the game and in the moment. It was a shared experience between him and the fans. Not many people get to experience what it's like to play in Major League Baseball, but Vin had a special talent that brought fans into the game.
Over his long, hall-of-fame career, Vin had a plethora of legendary calls. On plays that would already be engraved into baseball history, Vin could take that moment and make it iconic. His use of metaphors and puns, the way his words would flow, and his ability to tell a story entangled within the game combined with a strategic use of silence that would allow fans to feel the excitement of the crowd made some of the best moments in baseball history.
From the impossible game 1 walk-off in the 1988 World Series to Hank Aaron's 715th record-breaking homerun to Clayton Kershaw's no-hitter in 2014, Scully was a master at capturing the moment and translating it into words for fans to enjoy. Now, as a New York Mets fan, I grew especially fond of his "Behind the Bag" call that ended game 6 of the 1986 World Series (a call that would be engraved into the history of a franchise Scully wasn't even a part of, and is still adored by fans more than 35 years after the call was made).
Vin's Impact on My Life
I grew up in southern California, in a classic Dodgers, Lakers, and Raiders fan house. Hearing Vin Scully call baseball games was almost part of our daily routine. Without even realizing it, Vin would play a part in what I would aspire to be and make an impact on how I write stories in my career.
I knew early on that I wanted to be a professional communicator. Although, I spent a long time trying to figure out how exactly I would fit into the communications world. Of course, I would eventually find myself in organizational communications and public relations, I did consider broadcasting and journalism in hopes to tell stories the way Vin did. After listening to him call games day after day, I was able to pick up on some things that I hope to use in my professional career.
What Communicators Can Learn from Vin
There is a lesson that public relations professionals (PR Pros), and anyone who writes for that matter, can learn from Vin Scully. In the same way that he spoke in the booth, writers can share experiences, not just stories, with their readers. PR Pros can show empathy in their writing, connecting with their audience rather than just giving them information.
Of course, everyone remembers the iconic calls Scully had in his long career, but it was his ability to take an otherwise boring game on a random day and turn it into something worth watching that made him special. Likewise, PR Pros can take an everyday story and turn it into something exceptional. Consider different angles in your stories and how they might fit in with relevant topics. Be creative and think about how a regular news release might have a fun twist to it.
There will never be another Vin Scully. His impact on baseball and its community will live on forever. His storytelling was unmatched and his way of bringing fans into the game was indescribable.
There may never be another Vin Scully, but the next great storyteller might just come from the lessons he left us.
Honorable Mentions
There are too many iconic Vin Scully calls to include them all in an article. There are plenty of articles that cover Scully's calls of some of baseball's greatest plays, although none of them cover some of his best stories told throughout games. Here are some of my favorites.