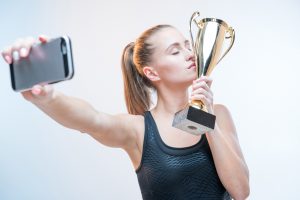 by Josh Weiss
It's one thing if you say you're good, but it's something else when you can point to an award proving you really are good! Awards are a great way to give your company third-party credibility and build trust. The best part, is that you can win even if, technically, you lose!
Here's what I mean—if you're named a finalist for an award, before the ultimate winner is released you get to promote yourself as a finalist by putting out a press release, adding it to your website and company newsletter, etc. After the awards ceremony, if you win, you can do a second announcement claiming victory. This gives you two bites at the apple of self-promotion! But, if you don't win and instead come in second or third, you can simply sit back and know that you at least got credit and recognition upfront from being a finalist and it will remain proudly on your website for all to see.
Several years ago, I wrote a blog sharing some tips when it comes to applying for awards. I thought I'd revisit the list and share 8 tips and best practices when it comes to submitting award nominations.
1) Take advantage of annually presented awards. Someone has to win, even if the entries aren't that strong. You're not competing against past winners, you're competing only against the other nominees from that same year. It may surprise you that when it comes to annual awards- like from a Chamber of Commerce- there are sometimes only a handful of nominations submitted. So if you do the math, the odds are pretty good that you'll at least be named a finalist.
2) Read the eligibility requirements. Don't waste your time submitting if you're just going to be automatically disqualified from consideration. A simple example is if the rules say you need to have been in business for three years, but you've only been in business for one, then don't waste your time applying. Selection committees can look the other way for a lot of narrative text answers, but selection committees can't award you the prize for prettiest cat when your nominee is a dog.
3) Give them what they want. Most nomination and eligibility forms state exactly what the selection committee will be looking for in the winner. Make a list of each item that the selection committee is reviewing, and write your nomination to directly answer those questions. Make it easy for the selection committee.
4) Highlight the key phrases that will earn you points from the judges. In boldface type, highlight the keywords that answer each question or scoring criteria. Your goal is to ensure that the selection committee can find and properly score your answer for maximum points.
5) Have someone else grade your nomination. A great way to test your nomination is to have someone else read your submission. Have them literally check off each item they find related to a stated scoring criteria. If they find any scoring items not explained in your answer, go back and add the needed details into your submission. Don't throw away any points that will help you win simply because you accidentally forgot to include an example.
6) If at first you don't succeed, apply again. Just because you don't win the first time doesn't mean you shouldn't re-apply the following year. I've experienced cases where the awarding organization was so desperate for a quality candidate that a client has been called after a deadline has passed and asked to resubmit a nomination from a previous year. Needless to say, the company was happy they resubmitted their nomination.
7) Ask why you didn't win. If you don't win, don't be afraid to ask the judges how you can improve upon your nomination next year. They may tell you what was missing from your nomination, or why they chose another winner. You'd be amazed at how honest and helpful the response likely will be and how it will improve your chances for success in the future.
8) You Must be present to win. Make sure a leader from your organization quickly confirms that they will attend the awards ceremony and get your RSVP in early. There are two reasons. First, if the winner has yet to be chosen, judges will want to make sure that whomever they choose to win is actually there to accept. If they know you won't attend, they'll give it to one of the other finalists. Second, you need to take advantage of the media opportunities the awards event provides. Whether that be people seeing you on stage accepting the award, or in photos taken and shared with media of the winners afterward. An award you win that no one ever knows about is basically only useful as a paperweight or doorstop.
Good luck with your submissions. If you follow these nine submission suggestions, you're likely to walk away happy!