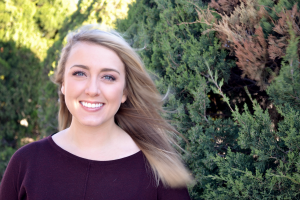 By Sierra Oshrin, Account Executive at 10 to 1 Public Relations
I've always been a big talker… Just ask my dad. When I was younger, I would be the first to raise my hand and volunteer to read in front of the class. Sometimes asking to read multiple times. I would sing in front of my church and at local events in my small hometown of Pinetop (which I had absolutely no business doing). After moving to Glendale, in high school I emceed all of our assemblies and worked on our student television broadcast service.
My love for presenting led me to the Walter Cronkite School at Arizona State and into a career in journalism. Most recently, I was a reporter and weather anchor for KBOI, the CBS affiliate in Boise, Idaho. I loved being out in the field, meeting with new people every day and sharing their stories with our viewers. I realized then that everybody has a story. What took me a while to realize was that not everyone was comfortable sharing their story.
There are many reasons as to why someone wouldn't be comfortable with a stranger putting a 40-pound camera in their face and asking them questions on something they may or may not know much about. Maybe they're nervous they're going to sound stupid or they're not confident in their appearance. Maybe they're afraid of retaliation from neighbors or friends, or maybe they've been burned by reporters in the past.
I can't even begin to tell you how many hours I stood on street corners, in the middle of a snow storm, begging people to talk to me. I probably spent just as many hours over the phone convincing people that I wouldn't burn them – that if they didn't like the way they said something, they could say it again and I would use the latter soundbite.
I quickly became a coach for many of the people I was interviewing. Telling them where to look, what topics I wanted to touch on, and calming them down before the camera lights turned on. I understood how nerve-wracking it was for them to be in front of the camera because I was in front of it every day myself. Boy, do I have some bloopers.
Once I realized I was good at media coaching and really honed in on storytelling, I started thinking more about switching to Public Relations. I love news and the power of good, investigative journalism, but I wanted to be a part of something more strategic. With public relations, you're able to focus on the end-goal and strategically tailor a campaign to get you there.
It's only been a couple weeks, but I've definitely faced some surprises during this transition. For one, I didn't realize how long the approval process can take. Press Releases get looked over a dozen times before being distributed, often times changing specific words two or three times. As a reporter, I've seen lots of press releases- some useful, some useless. Now that I write the press releases and the pitch stories, I realize how much work goes into conveying specific messages while ensuring reporters can easily envision the story their audience will care about. I understand that it's important to convey a message as quickly as possible so you don't lose the reporter's interest– like mine was lost so many times.
What's exciting to me about this transition to PR is the opportunity to build strong, lasting relationships. I get to interact with the same amazing clients on a daily basis, truly figuring out what their story is and the best way to tell it. Our client list was one of the main things that sold me on working for 10 to 1 Public Relations. Each company has a unique and interesting story. I truly believe in the work they're doing and I'm honored to help get them the recognition they deserve.
I'm excited to grow in this new role as I now get to take what I learned as a member of the media and help our clients achieve their long-term goals.
Let the next chapter begin!