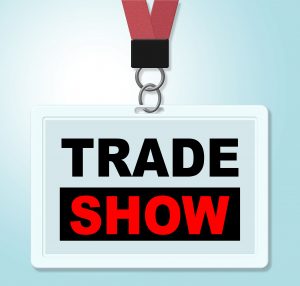 Going to a Trade Show? Don't forget to implement an aggressive public relations plan.
Think about it… industry media from all over the world attend trade shows to learn the latest industry trends and meet with as many companies as possible. Trade shows represent a smorgasbord of story and product options with everything in one place. It's the ultimate story buffet for a journalist.
The mistake most companies make is not including an aggressive media and public relations component to their trade show strategy, and failing to implement that strategy several weeks and even months prior to the show.
Here are some tips that every trade show exhibitor should do – whether you're a show regular or it's your first time attending.
1: Ask for the Show's Media List:
Most shows will give exhibitors a copy of attending media in advance, but only if you ask for it. Once in a while you may have to pay for the list, but most of the time it's free. The list might not be the upcoming show's list, because a lot of media sign up at the last minute. Instead they may send you the list of media that attended the previous year. This is still extremely useful because industry media tend not to change. If a publication attended last year, there's a good change they're coming this year too.
2: Schedule Media Appointments in Advance:
Media don't randomly walk the show doing interviews. Their schedules are meticulously planned out. For the crazy big shows, I know reporters that literally schedule bathroom breaks and make sure around lunch time that they have meetings near the food stands before or after. Others designate which aisles they plan to be in during which hours, refusing to double back later.
This matters because the earlier you start reaching out to media asking for interviews/meetings the better. Otherwise you may find their schedules filled.
3: Utilize the Press Room:
Big shows have a press room, which only media are allowed to enter past the reception desk. Think of it as a quiet room where reporters feel safe from being hounded by companies. Many shows allow companies to leave press materials for media to take at no extra cost. Others allow you to hold press conferences or demos to introduce new products (this often comes for an extra cost and must be scheduled in advance).
4: Look at Badges as People Walk By the Booth:
Most shows have name badges with color codes. For example, media might have a red bar at the top, exhibitors might be orange, attendees green, etc. Take advantage of the color codes and between scheduled interviews watch the badges of people walking by. If they have a media badge, try to start a conversation and see if they stop. If they do, try to turn it into an on-the-spot interview opportunity. If nothing else, try to get their business card.
5: Keep Good Notes:
What did the reporter say they were interested in? Did they ask for additional information or to talk to a client? Be sure to write down a recap of the meeting right after it happens, because after you get home the many meetings you had are all going to blend together.
6: Dealing with No-Shows:
Every show there are reporters that simply don't show up for scheduled appointments. Some can't find the booth while others forget or simply never attend the conference for whatever reason. When scheduling before the show, try to get cell phone numbers and call or text them to see if they still plan to come to the booth or to reschedule. Even still, there will be a reporter or two that never responds. Don't overthink it – just accept it.
7: Have Realistic Expectations:
Some media might run stories right away, but most of the time the meeting is simply a "get-to-know-you" opportunity. Schedule meetings in 30 minute blocks, but most meetings will only last 15-20 minutes. You're truly just trying to make an impression to be remembered after the show ends. Think about it… the reporters are meeting with dozens and dozens of companies. Not every company will get a story, you just want to be remembered. The real long-term benefits will come after the show, when you send future press releases and you can reference having met them at the show. If they remember you, the odds of your story getting covered go up significantly.
8: Don't Forget to Follow-up:
When you get home, send a thank you note to every interview or chance media meeting you held. Remember, your goal is to build relationships long-term. Milk it by offering a follow-up interview and make sure that the contact is added to your media list for future releases.
And finally, don't forget to have fun… and wear comfortable shoes! Seriously.