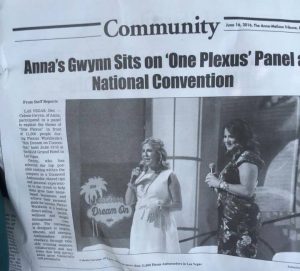 Back in July of 2014 I wrote a blog titled: How to get media coverage at an industry trade show and other conference and exhibitor tips. That was for when your company attends or exhibits at a conference hosted by someone else. But what if you're in charge of the conference, hosting it for your users or customers? Earning some media coverage is likely easier than you realize, but it helps if you view your conference as several mini-events rather than one big one. Allow me to share an example from just last week.
Last week I attended a convention 100% coordinated and hosted by one of our clients. Held in Las Vegas, it was attended by nearly 12,000 home-based independent resellers. Yes, you read the number correctly. There would have been more attendees, but they sold out two months early and there was literally no way to fit in more people.
Let's get into how to generate media coverage. The easiest mistake is to put all your focus on getting local media to attend your event or putting out one press release expecting everyone to care about your event. Let's be honest… Las Vegas reporters aren't going to care as they see conferences all the time. Even if they did cover it, the local Las Vegas TV audience wasn't our target market.
Yes, of course, you should distribute a press release about your conference and send it to your target media outlets. But if you treat it like every other press release it will get covered like every other press release. If the conference is a super-big deal to your company, can you distribute more than one release to make sure those same reporters realize something big is happening? For example, maybe you can do a general release about the event right before it starts, and a day or two later you can do another release highlighting that you introduced a new product at the conference, or a special guest presenter or event that occurred during the convention. Include a photo from the event whenever possible.
What most companies forget is that they can also generate media coverage by focusing on your individual attendees.
If it's a training conference, it's a good bet that you have attendees coming from numerous cities. It's also likely that your training session presenters come from different cities across the country.
Take photos of your individual presenters while they speak to your attendees, and send the photo with a caption to the newspapers in their hometown. The recommended caption should highlight the presenter… something like Joe Schmo of Cleveland led a training session about underwater basket weaving at the national conference for COMPANY in Scottsdale. COMPANY is the leading provider of waterproof yarn and Schmo is a regular user of the products.
You'll be shocked how many of the small-town newspapers will run the picture and caption of a hometown individual being recognized as a leader.
For the client convention last week, we literally distributed three Corporate press release, and more than 40 individual presenter photo caption releases. Some of the photo releases were delivered to the hometown papers before the presenter even left the stage (sorry for bragging… we are pretty proud of that one). The client is already seeing coverage from the effort, and the presenters are thrilled for the free publicity in their hometown papers. An added bonus is that those same presenters are going back to the company to thank them for getting them in their local newspapers. It's a win-win for everyone.