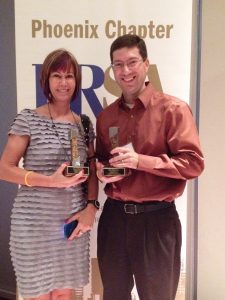 Josh Weiss at the Copper Anvil Awards presented by the Public Relations Society of America's Phoenix Chapter on 8/23/12 where he co-accepted two awards with Liz Merritt from his work last year at Rural/Metro Corporation.
It amazes me that more PR pros and company spokespeople don't take advantage of an easy way to generate free, positive news coverage that improves a company's brand and community image.
Awards serve as credible, third-party validation to target audiences. Awards also provide an opportunity for your company leaders to accept recognition for excellence in front of peers and competitors and can serve as a point of pride for employees.
During the past 15 years, nearly half the awards I've applied for on behalf of clients or companies have won, been named a finalist, or received an honorable mention. I'm not trying to brag, I'm trying to make a point. Few companies apply for awards. Even fewer understand what to include in a nomination.
Here are some suggestions for new nominators:
1) Take advantage of annually presented awards. Someone has to win, even if the entries aren't that strong. You're not competing against past winners who truly may be worthy of receiving the award again, you're competing only against the other nominees that same year. Often only a handful of nominations are submitted, giving you great odds to win or at least be named a finalist.
2) Read the eligibility requirements. Don't waste your time submitting if you're just going to be automatically disqualified. Selection committees can look the other way for a lot of items, but selection committees can't award you the prize for prettiest cat when your nominee is a dog.
3) Give them what they want. Most nomination and eligibility forms state exactly what the selection committee will be looking for in the winner. Make a list of each item that the selection committee is reviewing, and write your nomination to directly answer those questions. Make it easy for the selection committee. In boldface type, highlight the keywords that answer each of those items, ensuring that the selection committee can find and properly score your answer for maximum points. A great way to test your nomination is to have someone else read your submission and check off each of the items the selection committee is seeking.
4) How would the awarding organization benefit by your win? Remember, many awards are presented during a ceremony that also serves as a fundraising event. If you win, will the presenter sell more tickets—either from your organization or organizations/individuals that support the nominee?
5) Have you been approached by the awarding organization about becoming more involved in other aspects of the organization? Most selection committee members are made up of board members. If the awarding organization is trying to get your company more involved, what better way than to present an award to you in order to try to entice your organization to do more?
6) Does your location give you a leg up? If the organization presenting the awards covers a wide geographic area, the organization may need to spread out the location of the winners. For example, I've been told in the past that while the organization wanted to present us with the award, they had too many local area award winners in other categories and had to find an organization to win in another area instead. If you are located outside a major metro area, your location might be viewed as a positive when applying for statewide or regional awards.
7) If at first you don't succeed, apply again. Just because you don't win the first time doesn't mean you shouldn't re-apply the following year. I've experienced cases where the awarding organization was so desperate for a quality candidate that I've been called after a deadline has passed and asked to resubmit a nomination from a previous year. Needless to say we won the award that year.
8) Ask why you didn't win. If you don't win, don't be afraid to ask the awarding organization how you can improve upon your nomination next year. They may tell you what was missing from your nomination, or why they chose another winner. You'd be amazed at how honest and helpful the response likely will be and how it will improve your chances for success in the future.
9) Take advantage of the PR opportunity! Several organizations choose to announce award finalists weeks before the awards ceremony, only to name the winner the night of the event. Put out a press release days prior to the ceremony stating that you are a finalist. If you win, you can always send another release afterward. You can also add it to your company website and company collateral. It really doesn't matter if you win the big prize, you still gain independent third-party credibility simply by being a finalist or honorable mention.
10) Must be present to win. Make sure a leader from your organization attends the awards ceremony and is prepared to speak when accepting the award—and make sure they are willing to stay until the end because group pictures of winners are often taken after the event. Don't throw away a great opportunity as the organization presenting the awards is likely to share the picture and promote the winners separate from your PR efforts.
Good luck with your submissions. See you on the rubber chicken awards circuit!