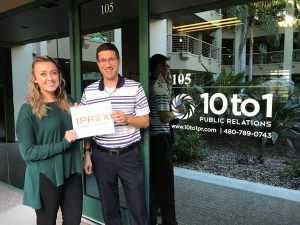 SCOTTSDALE-BASED STRATEGIC COMMUNICATIONS AGENCY 10 TO 1 PUBLIC RELATIONS JOINS IPREX GLOBAL COMMUNICATIONS
SCOTTSDALE, ARIZ. – October 3, 2017: Scottsdale-based 10 to 1 Public Relations has joined the communication platform operated by IPREX, a $380 million network of communication agencies with 1,600 staff and 110 offices worldwide.
10 to 1 was founded by President Josh Weiss, following a career in politics and senior in-house communication and crisis management positions, with particular focus on brand building and reputation management through systematic media outreach and community engagement.
"We're thrilled to be included in this prestigious group of 60 independent public relations agencies with 110 offices across the globe as its sole member in Arizona and the Southwestern U.S.," said Josh Weiss, President of 10 to 1 Public Relations. "IPREX will help increase our capabilities to continue serving clients nationally and globally as our firm continues to grow."
"Having 10 to 1 Public Relations as a partner in IPREX strengthens our network in the United States. Phoenix is a growing and impressive market of more than four-and-a-half million people with a strong base of business and 10 to 1 PR is an emerging leader in the market," said Nick Vehr, Vehr Communications (Cincinnati) and IPREX Americas President. "Josh Weiss is an experienced communications professional and his growing team will be better positioned to support the agency's clients outside the Phoenix region."
10 to 1 Public Relations operates across a broad spectrum of industries, particularly in healthcare, technology, transportation and direct sales companies.
Clients include: Rapid Recovery from Mainstreet Health, Plexus Worldwide, FirstBank, Advanced Genomic Solutions, Tomcar, Envoy America, AZ Partsmaster and The CORE Institute.
About IPREX
IPREX is a $380 million network of communication agencies, with 1,600 staff and 110 offices worldwide working across the spectrum of industry sectors and practice disciplines.