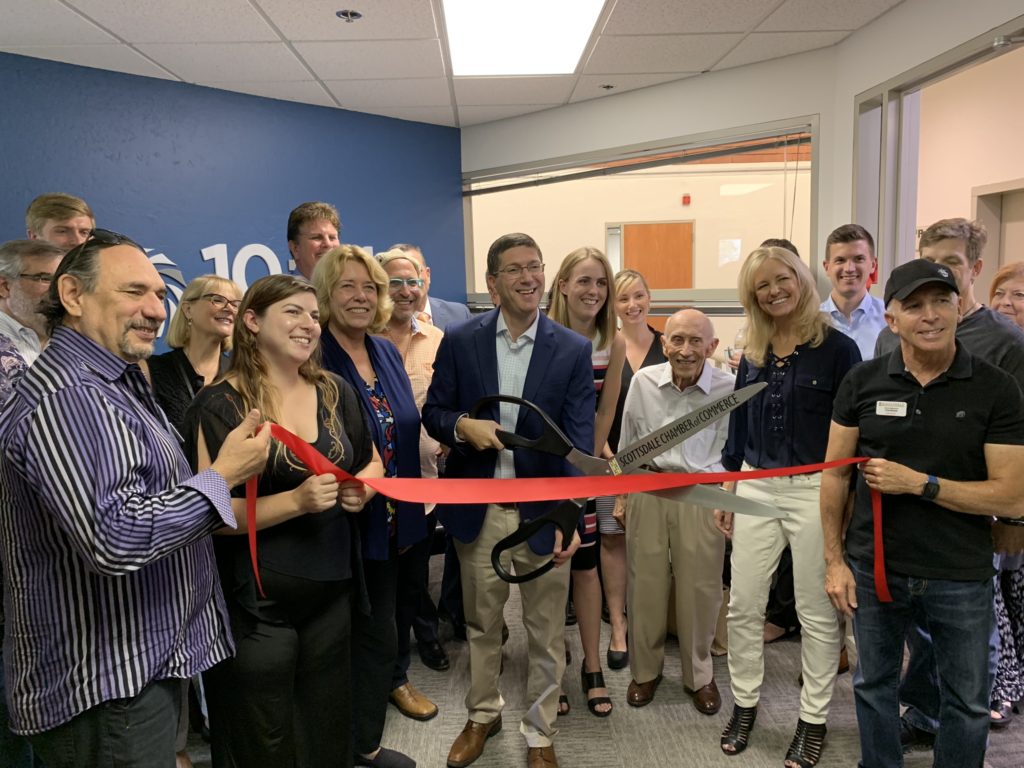 More than 75 business and community leaders joined in celebration as 10 to 1 Public Relations held an open house and ribbon cutting on June 25 at its new Scottsdale offices located at 7320 E. Butherus Drive in Suite #205 at the Sky Peak building across the street from Scottsdale Quarter.
Over the past year, the strategic communications firm has added several new local, regional and national clients including Rosendin, Vantage Mobility International, Title Alliance, Platinum Living Realty, and Clinica Sierra Vista. After hiring additional staff to serve the expanded client roster, 10 to 1 Public Relations needed larger office space. The new offices are approximately three-times the size of the previous office, which was on the southwest corner of the 101 and Raintree, also in Scottsdale.
As 10 to 1 Public Relations' reputation for results-driven public relations campaigns and strategies both locally and nationally has grown, companies have turned to us in rapid succession for building and maintaining their reputation and reach. I was honored to have so many people join us in celebrating this milestone achievement for the 10 to 1 Public Relations team.

Josh Weiss, President and Founder of 10 to 1 Public Relations
Weiss founded 10 to 1 Public Relations in 2012 after leading public relations efforts for several regional and national companies in the healthcare, public safety and transportation related industries. At the ribbon cutting, Weiss joked that while the offices look great thanks to the talented vision from interior designer Fabiola Sweis, it purposely lacks the millennial amenities many larger firms typically include like ping pong tables and beer on tap. But the firm did commission one signature for the office – a 4X3 foot marble run with a public relations theme.
We wanted to include something unique in our office that really connected with our philosophy that 'it takes 10 positive stories to make up for one negative impression', so we commissioned artist Matthew Gaulden of Rolling Ball Sculpture in Northern California to create a public relations-themed marble run," said Weiss. "Every time we generate a positive news story for a client, we run a marble through the structure and collect it with other marbles that represent earlier stories we helped generate. So far this year, the 10 to 1 Public Relations team has already generated nearly 900 stories for its clients.

Josh Weiss
Click here to watch a short virtual tour of the office including of the marble run.
The Scottsdale Chamber of Commerce and City of Scottsdale Vice Mayor Linda Milhaven assisted with the ribbon cutting. Marc Pierce, Principal at Lee and Associates served as 10 to 1 Public Relations' broker.
"At the ribbon cutting, I shared a quote that has motivated me in building my business: 'I didn't come this far to only come this far,'" said Weiss. "While I'm very proud of what we have achieved for our clients and how it's allowed us to grow and move into this space, I'm more excited for what the future holds as we continue to expand and grow our team," Weiss concluded.