Paramedics and EMTs have a unique perspective and credibility to educate the public on the importance of preventing drunk driving related crashes.
We see first-hand the 1000 people killed each year between Thanksgiving and New Year's. We care for thousands more that are injured, and we witness the impact it has on family members.
So, if given the opportunity, would you use news coverage to help reduce drunk driving crashes while creating a free opportunity to promote your agency as a community partner? (Guess what I'm about to write next…) Well, you can!
Several years ago, Mothers Against Drunk Driving (MADD) created a program called "Tie One On for Safety." The program encourages the public to tie red ribbons on vehicle antennas as a reminder to others to designate a sober driver.
A great opportunity for ambulance providers is to place ribbons on your entire fleet.
Setting up a media event to announce your effort is actually easier than you'd expect. Start by contacting your state or local MADD chapter and offer to co-host an announcement. A few days before the event, invite media and tell them what they can expect if they attend the event.
Tell reporters if they attend that they can record/photograph:
Paramedics and EMTs placing red ribbons on the antennas of your vehicle fleet.
Interview medics and EMTs that have responded to DUI crashes who will share their perspective and talk about how frustrating it is to respond to such calls knowing that they are 100 percent preventable.
Interview representatives from MADD who can talk about drunk driving statistics and how this time of year is especially dangerous.
Interview a victim advocate (family member of someone injured/ killed by a drunk driver) who can share their personal story.
A formal press conference with a podium is not necessary, as media will appreciate being able to conduct the three unique perspective interviews one-on-one, plus the ability to record/photograph the ribbons being placed on units. If you don't have a local MADD chapter or they are unavailable to participate, you can still host the event on your own.
You might also want to involve other public safety or community partners who can also place ribbons on their vehicles. Plus, every community has local advocates against drinking and driving.
Make sure you have someone attend who can speak from the victim perspective as well as your crew members. The more interview angle options you promote to the media, the more likely they will choose one to cover.
Additional considerations:
Hold the event in the days following Thanksgiving to increase media coverage rather than waiting until mid-December, which often becomes cluttered with Christmas-related stories. A secondary option would be the week between Christmas and New Year's as this is often a very quiet media week with reporters looking for stories to cover.
This is a no-cash media event, as MADD is likely to supply the ribbons at no cost. If you do need to buy your own red ribbons, the cost is still minimal.
Employees often request ribbons for personal vehicles in addition to the ambulances so you will want to have some available after the media launch.
Even if you don't host an event or if the media don't attend, take pictures of crew members placing ribbons on their own ambulances and send the pictures with a caption to local papers and media outlets. You'll be surprised how many outlets (online or in print) post your picture and caption.
You should internally publicize a date that ribbons should be removed (i.e. January 5), as the ribbons become tattered and unreadable over time.
Finally, please let me know if you host such an event or get any coverage. I'd love to share it through my network to show others how a simple idea can have such a positive impact.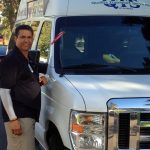 Note: This post also appears in my "PR Medic" column on the www.EMS1.com website