How do you stand out in your industry? One way is to apply for industry and community awards that recognize your business savvy, your community involvement, or your individual leadership. Anyone can apply for these awards, but to actually win them takes a lot of planning, effort, and time. We would know, as already this year we have submitted dozens of award nominations on behalf of our clients and ourselves.
Just this month, 10 to 1 Public Relations swept the PR category at the American Marketing Association's 2019 Spectrum Awards, the Valley of the Sun's only award ceremony dedicated to recognizing both the art and science of marketing. Of the four award nominations we submitted for different public relations campaigns, we won them all!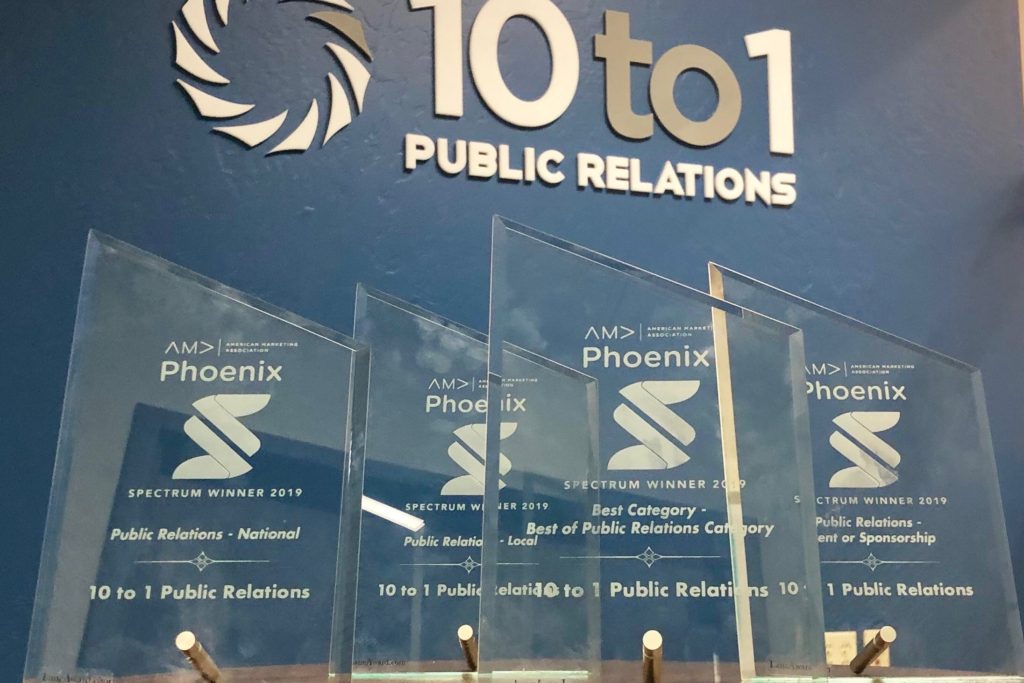 We've become masters of crafting the perfect award nomination, so we thought we'd share a few tips with you to increase your chance of winning that next one on your bucket list:
Be strategic – Don't waste time applying for every possible award available. Think about where you'd like to enhance your credibility and focus on awards that would highlight that area. For example, if you want to be better known for your excellent customer service, identify awards with that specific focus.
Absorb the judging criteria – Every award will usually list specific judging criteria. Spend time really understanding what the judges will be looking for in an award application, and make sure to include all appropriate information.
Bold or highlight keywords or phrases in your application – You never know who will be looking at your application and under what circumstances, so make it easy for them to give you a favorable review. By bolding or highlighting keywords or phrases, you make it easy for the judge to find the content that they are looking for in their judging rubric.
Plan ahead – By doing research on the available awards that make sense for you and your business ahead of time, you can create an annual award calendar so you can plan around deadlines. A rushed award application is rarely a winner, so make sure you realistically allow yourself enough time to submit a winning application.
Bonus tip: If you're selected as a finalist but you don't win, know that you're still a winner! You can market and brand yourself as a "Finalist" in that award category, which is still a great accomplishment and something to be proud of.
Then, once you've secured that Finalist or Winner award, don't just put the award on the shelf and forget about it! That's when the public relations campaign kicks in, where you can promote yourself as a leader in local and national outlets within your community and industry.
It's also worth noting that our "batting average" on award submissions is nearly .500, proving that we know how to attract the interest of selection committee judges. If you want some help in putting together an effective awards strategy to differentiate your business from the competition, we are here to help.
By Erica Fetherston, Sr. Account Exec at 10 to 1 Public Relations