Out of nowhere, a silly gif image made me swell with pride as a small business owner.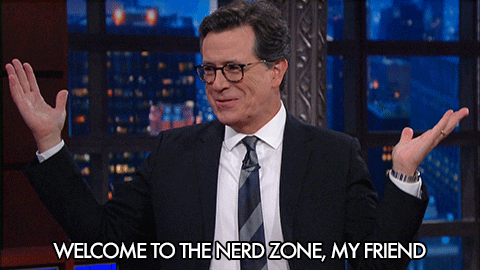 A couple weeks ago, a new employee joined my team. At the end of her first week, she sent a note to her coworkers thanking everyone for making her feel so welcomed and for helping her to learn our processes, resources, etc.
Another employee quickly responded with a gif of Stephen Colbert saying: "Welcome to the Nerd Zone, My Friend!"
I know that shouldn't be one of the gratifying moments I've had as a business owner, but it felt that way. Building a culture for a company is hard. You can be a good person, but not fit because company culture is a mix of personalities, passions, and experiences. Culture is more than simply the employees that work for the company, but the clients that employees serve. It's why we have a "no jerks" policy (which includes both co-workers and clients).
I say this admiringly… while they might be cooler than I am personally, collectively my team is a super cool collection of nerds, dorks, and dare I say it, geeks. We aren't for everyone, and we don't want to be. I want to work with people who are passionate about earning stories and getting results for their clients. I assume those same likeminded people enjoy working here because we're focused, like to work, and abhor office drama.
Our clients tend to be similarly driven- albeit individually as people most are more "cool" than we are. It's when we see the same nerdy passion that we know we're a good fit. A "normal" person might think a company is boring. It's hard for some outsiders to see that electrical contracting has so many interesting stories attached to it, or that there are so many different neat facets and angles to topics like orthopedics or generic medicines. But get together two people with a similar interest or knowledge base and the excitement and passion you witness during a discussion can become riveting.
That's what we look for in a client. People who think their business or industry is fascinating, even if the general public (or a reporter) may not initially see it. Passion is what's contagious, and we want to catch your disease. Don't forget, the word influenza (flu) is very similar to influence. We want to spread your "cool flu."
Yes, we're proudly in the nerd zone. You're welcome here, too. Click here to drop us a line and join us in the zone.