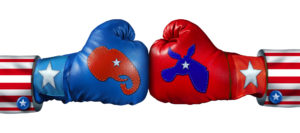 A lot of people are rejoicing that the elections have ended. Their elation isn't necessarily about who won, but simply that they're thrilled that the campaign ads are finally over! For me, campaign season never ends, because I believe that the best public relations campaigns should be run like a political campaign- and that's how we set our strategies for our clients. Let me explain.
Some of you may know that in the late 90s I used to work in politics— hardcore Illinois "machine" politics at that– before moving to Arizona and formally starting my career in public relations. Working on multiple campaigns across the State, I learned several lessons which I still use today.
Plan backwards. What does a politician want when they start running for office? To win! In order to do that, the candidate needs 50 percent of the votes plus 1 on election day. Not today, but on election day. So if election day is 15 months from now, circle election day on the calendar and start planning backwards to reach your goal. For example, if the vote were held today and you were only at 35% and the vote was 15 months away, if you increase your percentage 1% each month you'll be at 50% on election day.
When we first engage with a client, we want to know their end goal, and when they want to achieve that goal. We then plan backwards to get them there on time. It won't happen the first month, but if we do our job right, we'll get closer to their end goal every month and ultimately achieve our client's desired result.
Make your negative your positive. Every candidate has a flaw that will be attacked or something which might turn off some voters. The best politicians can acknowledge the negative and the best campaign managers will prepare a response to an attack in advance and will even work to turn that perceived negative in to a positive. We view our role as a PR pro as the company's campaign manager- identifying flaws and dealing with them head-on before they become fatal. Sharing with media and the public how a flaw was fixed is often a great way to build confidence, gain support and grow a company.
Know what you want people to remember before you start talking. A good politician walks in to any speech knowing what they want to tell their audience before they say a single word. A company needs to know what take-away they want their customers, prospects and employees to remember and feel before any action they take. The public relations strategy and wording used needs to mirror the intended take-away.
Be consistent. It's hard to trust a flip-flopper, so repeat the same message as often as possible. Only then will people hear it and remember it.
Own it. In the rare cases where you must do a flip-flop, own it. Explain why the change was the right thing to do. People are more than willing to forgive a mistake, but only if you own it and don't hide it.
There's a lot more I learned working in politics which I credit to how we create strong, effective PR campaigns for our clients. But, for the rest of this month, let's all take a deep breath and just enjoy the end of the non-stop political attack ads. Please?!?!?
Written by Josh Weiss, President, 10 to 1 Public Relations, [email protected]